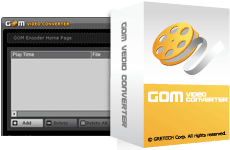 GOM Video Converter is...
Powerful video conversion software that enables you to convert and watch videos on your iPad, iPod, PSP, MP3 Player, Cell Phone, Game Consoles, and other various devices. You can convert any video playable with GOM Player to MKV, AVI, MP4, FLV, WMV/ASK, OGM, 3GP, MP3, and more. Enjoy your converted videos anywhere at any time on your cell phone, MP3 Player, iPod, PSP/PS3, PMP, GPS, and other multimedia devices.
About The Free Trial Version
Downloading and installing GOM Video Converter will give you access to the free trial version of the software. Almost all of the program's functions are usable in the trial version, however a GOM Video Converter watermark will be embedded on all converted videos until a license is purchased and registered.
>>View the differences between the Trial Version and Full Version.
Easy To Understand, Intuitive Control

1 Browse the video to convert or Drag & Drop 2 Select the Preset for the device you wish to convert your file for 3 Confirm settings and start conversion
You can convert videos easily using GOM Video Conveter's simple 3-step control. Add a video to the list, set your output preferences, and start converting.

Avoid complicated steps involved with fine-tuning settings for specific devices by selecting an output preset that suits your needs.
High Speed Conversion
GOM Video Converter is simply faster than other video converters, especially when converting from AVI to MP4.

Convert a 32min 50sec AVI file to MP4 in just 1m 32s! (22.7x faster than the total play time!)

Convert an MPEG-2 file to MP4 14.3x faster than it takes to watch it!

Convert an MPEG-2 file to MP4 11.1x faster than the total play time!
Large Number of Supports for Input and Output Formats

Other video converters restrict the types of files you can convert, but GOM Video Converter can convert almost any file that is playable with GOM Player, offering support for a wide range of input and output formats.
Advanced Video Editing Functions

Convert videos to fit your tastes.
Crop the frames you want using the set segments function, embed subtitles on converted videos, and much more.